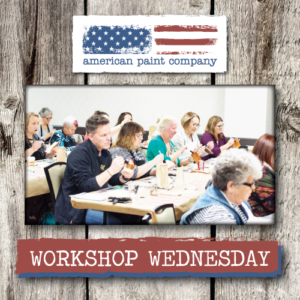 Last week someone asked on the Work$hop Wednesday post if there are any APC work$hops in Southern California…There are many, many other customers wondering the same thing. We get questions all the time from people wondering where they can find a local APC work$hop in their area…which is why we launched the 'Work$hop Wednesday' weekly Facebook post campaign!  To help customers find your upcoming work$hops. After all, they want to take a work$hop, and you're offering a work$hop, so it's a perfect match!
So, if you have an APC work$hop coming up…simply put your Event link or the link to your FB Business Page AS A COMMENT on the American Paint Company's FB post 'Work$hop Wednesday'.
You will be entered for a chance to win DIY kits and APC aprons!!!! 
Here is the link to the APC post:
https://www.facebook.com/americanpaintcompany/photos/a.382421078532431.1073741828.377611649013374/1240563116051552/?type=3&theater
——————
Thank you to the following APC Authorized Retailers for posting your workshops last week:  (This post happens every Wednesday)
Rusty Cottage
Vintage Dames
Prairie Harvest
Kelli Dee Floral
Blooms Flowers
UNika Creations
(each week you post your workshop, it counts as a new entry)
——————–
Don't understand this contest? 
Please email us, we will be happy to help:
marketing@fudwholesale.com